Sinbosen's 2021 ranking of popular amplifiers, microphones, speakers, etc.
Views : 916
Update time : 2022-01-14 17:05:12
We haven't pulled back from the thoughts of 2021, and January 2022 is quietly passing by. 2021 is full of sorrows and joys, but in the end we all managed to get over it. There are many things in 2021 that are worth looking back on, so let's take a look at Sinbosen's popular products in 2021.
Top 1 of 2021, it is n
ot only the top 1 in the power amplifier, b
ut also t
h
e popul
ar TOP1 in the Sinbosen store:FP10000Q.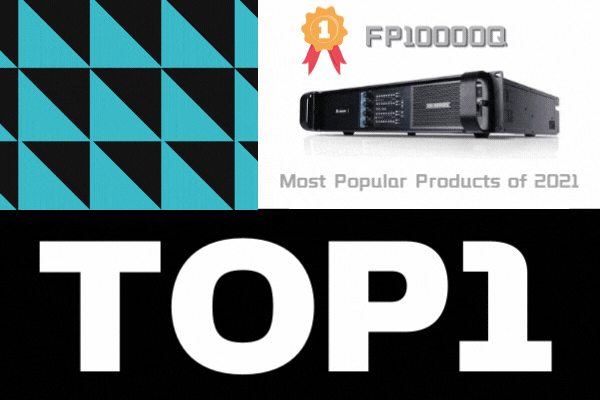 Sinbosen FP10000Q
is the T
op
selli
ng
four-channel model in
the FP+
Series. Very high
p
ower and channel density
–
The four-channel FP10000Q delivers 2100watts *4CH
(4ohms) in only 2U.The high quality and stable quality have conquered many Sinbsoen buyers and become regular customers of Sinbsoen. And FP10000Q has a wide range of applications and can be used in general places.
Secondly, like the FP10000Q, the FP20000Q and FP22000Q, which are four-channel class td power amplifiers, are also the top 5 power amplifiers. The two-channel FP14000 is also a popular item in the store. The top five most popular in the store are occupied by the FP series! It can be seen that the FP series is powerful! FP series is our Top Sellers Touring- -Grade Class TD Amplifier, delivering Rock -Solid Reliability and Sonic Purity. It is high-powered Switching power amplifier, with precise circuit structure. Selectable gain plus scalable Voltage Peak Limiter (VPL) and bridge-mode operation allow custom configuration for any application. Multiple detection and multiple protection, comprehensive protection scheme including current, voltage, DC, temperature, short circuit and open load warnings.In addition, there are upgraded cooling system and more powerful and quality Siemens capacitors.And DSP modules can be added to the FP series, which is our DSP series.

The K4-450 of the digital power amplifier series is also ranked in the top five in terms of popularity. The K4-450 can basically meet the needs of small daily activities. The mini portable 1u size and high cost performance are favored by customers. Some customers purchase more than 100/200 K4-450 at one time. K4-600, which is a power-enhanced version of K4-450, is also a popular product. However, the popularity of K4-1400, K4-1700, D2-3500, D4-2500 of the digital series has soared recently with the growing demand for digital series, and it is expected to overtake K4-450 in 2022!
So far, it has been found that 4 channel amplifiers are more popular than 2 channel/single-channel amplifiers, but either 2 channel or 4 channel amplifiers can be used to form stereo (left and right channels). It depends on the number of speakers and the actual needs of individuals.
In 2020, the SKM9000 sold more than the AXT220D. By 2021, the AXT220D is on par with the SKM9000. Of course, both microphones have their own advantages.
SKM 9000 audio true diversity wireless microphone with outstanding clear sound quality. It has less noise interference UHF double-locked circuit design, the perfect anti-noise interference characteristics, any similar systems are unmatched.The LCD display screen show the battery status on the receiver and transmitter.AXT220D is the new digital audio transmission True diversity Professional Dual Wireless Microphone, offers arresting Dynamic and stable long-distance 300-400meters transmission for stage performances. Support Multiple machine 10 pieces work together in the meantime. Dynamic and Condenser capsule for your different choices.Comprehensive performance improvement, anti-interference, anti- drop frequency, faster frequency. With display sreen can clearly see the real-time working status.

The popularity ranking of Sinbosen's wired microphones in 2021 is BETA58A and BETA57A, followed by SM58, KSM8 and SM57; in terms of processors, PA2 with two inputs and six outputs takes the first place, 260 and AD48 are ranked second and third respectively. In terms of speakers, KA208, AO-5.4, and VRX932 are in the top three.
The situation in 2021 is different from that in 2020, because Sinbosen has also been keeping pace with the times, and many new products have been loved by everyone, and their popularity has jumped up. In 2022, it may be a brand new product replacement!
Related Product:
Contact us:
Whatsapp:https://api.whatsapp.com/send?phone=8616676738225


E-mail:sales2@sinbosen.com