Sinbosen will meet you at the 2020 Guangzhou Prolight + Sound Exhibition.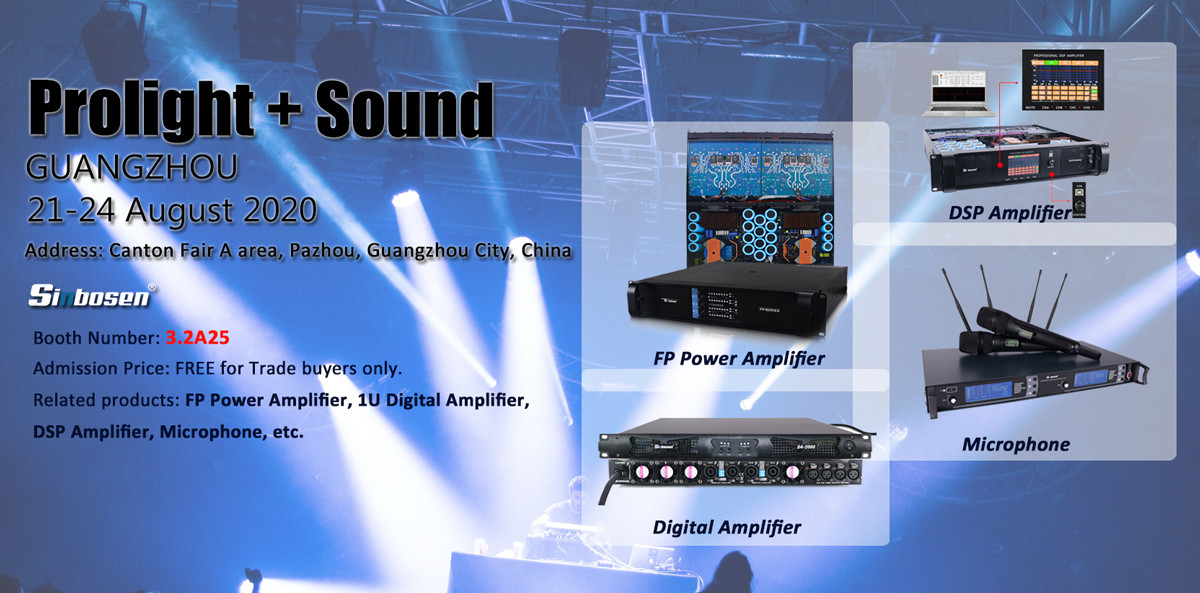 Guangzhou International Professional Lighting and Audio Exhibition
is one of the largest industry events in China. A series of professional lighting, sound, stage equipment and other products are displayed. Create an integrated display platform for the industry.
The exhibition has been designed to provide a one-stop trading platform for many years. In addition to bringing trade and exchange opportunities for the industry at home, it has also established a good foundation for market exchanges at home and abroad. The exhibition area reached 130,000 square meters, with 1,353 exhibitors and 81,154 visitors.
You must not miss!!!
---
Information about Sinbosen at Prolight Sound Guangzhou Exhibition
Booth Number: 3.2A25
Time: 21-24 August 2020
Address: Canton Fair A area, Pazhou, Guangzhou City, China
Admission Price: FREE for Trade buyers only.
Related products: FP Power Amplifier, 1U Digital Amplifier, DSP Amplifier, Microphone, etc.
---
Looking forward to meeting you at the exhibition. At the same time, we strongly invite you to visit our factory.
Sinbosen Audio is only a 30-minute drive from the exhibition address and you are most welcome to visit our factory! You only need to tell us your hotel address, we will arrange to pick you up and come to our factory.
Sinbosen Factory Introduction
Sinbosen New Products
Sinbosen Hot Products
---
Currently in China, The coronavirus (COVID-19) has been controlled, and the health and safety of exhibitors and visitors is the primary consideration of the organizers of the Guangzhou exhibition. The organizer has maintained close communication with the exhibition hall and relevant government health departments, and has begun to prepare a series of measures, including: frequent cleaning of the exhibition venue facilities, provision of more disinfection supplies, and health checks such as body temperature testing for participants and staff . Exhibitors only need to check according to the requirements, and can participate without other problems.
If you need more information about this exhibition, you can contact Sinbosen. Very very very much looking forward to meeting you at the exhibition.