Sinbosen UHF Wireless Professional Handheld Microphone SLX4/SM-58
Brand: Sinbosen
Model: SLX4/SM-58
Color: Black
Type: UHF Wireless Microphone
Feature: Perfect Sound
Frequency range: 780-822MHz
Operation range: 100m
Communication: Wireless
Terms of Payment: Western Union, MoneyGram, T/T, Paypal
Description
---
Product description
---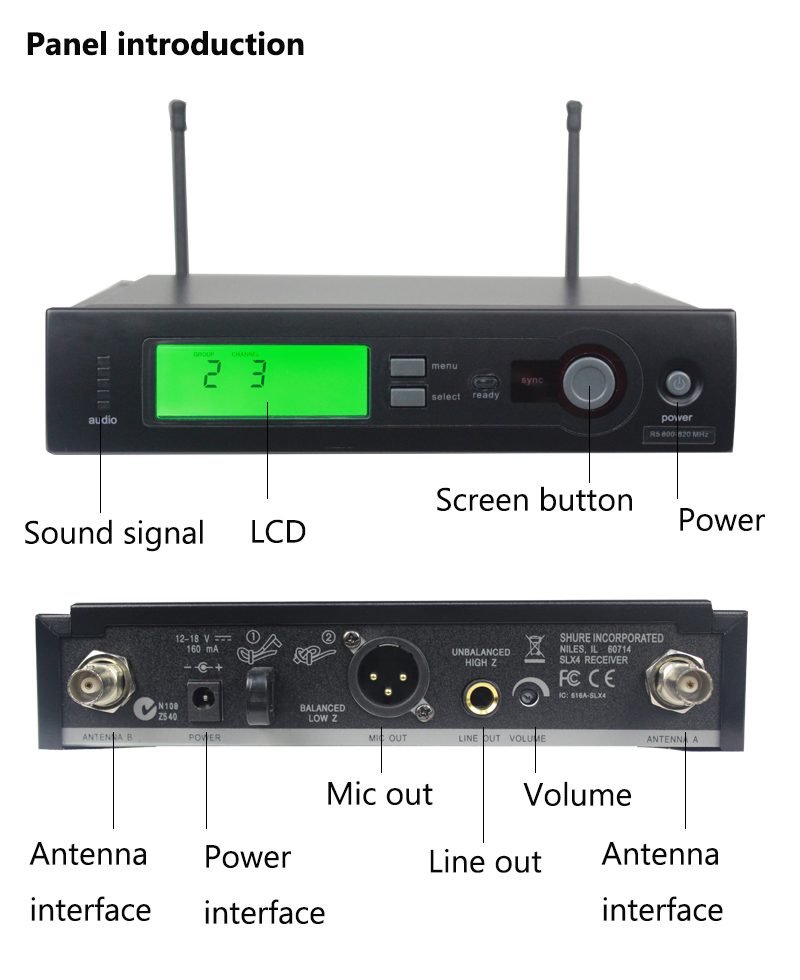 Feature:

►Handheld Transmitter: Cardioid and Dynamic / SM58(BETA58)
►Transmitter: Handheld/Headset/Lavalier Mic
►Type: UHF Wireless Microphone
►Feature: Perfect Sound
►Frequency range: 780-822MHz
►Operation range: 100m

►UHF frequency band,automatic frequency.Automatic Frequency Selection with group scan function Up to 1440 selectable frequencies.
►Frequency and power lock.
►5-segment transmitted audio signal strength meter RF indicator.
►3-segment transmitter battery fuel gauge.
►2 AA batteries ensure uninterrupted use for 8 hours.
►Advanced multi-function LCD displays group and channel.
►Transmitter choose: Handheld/Headmicrophone/Clipmicrophone.
►Various hand-held microphone options ( SM-58, BETA 58)
►SXL4 wireless receiver and removable 1/4 wavelength antenna.
►Contains rack mounting components.
►1/4 "and XLR audio output connectors.
►Volume control is located on the back of the fuselage.
---
Similar products
---