Power Distributor Controller
LAS5+1 8 Channel Distributor Professional Sound System Line Speakers Power Controller
Brand: Sinbosen
Model: LAS5+1 Power Distributor
Channel: 8 Channels
Voltage: AC90-260V 50-60Hz
Service: OEM Support
Description

---
LAS5+1 8 Channel Distributor Professional Sound System Line Speakers Power Controller
Front panel instruction
1.CH1, CH2, CH3, CH4, SUB INPUT and LINK / CH1, CH2, CH3, CH4, SUB. The input and parallel output of the signal are output to the amplifier through the rear-panel XLR plug
2. 8 channel amplifier signal output.
3. AC Power input.
4. AC power output switch.
5. The output voltage display.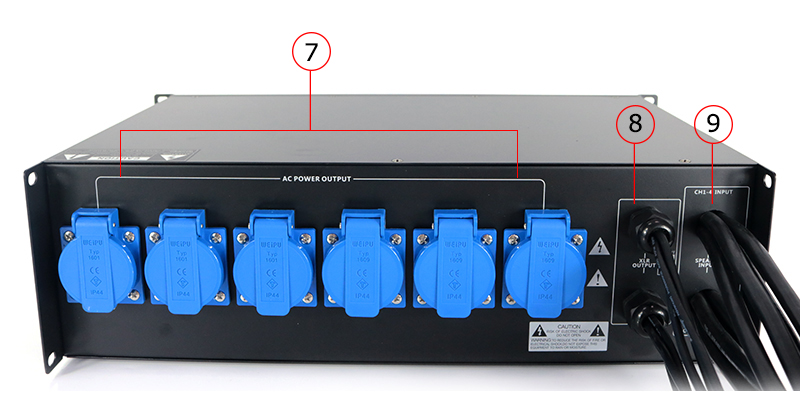 Rear panel instruction
7. AC Power output connector.
8. CH1,CH2,CH3,CH4,SUB OUTPUT.
9. 8 channel amplifier signal input.

---
Feature:

1. Panel color: Iron black.
2. Power input conditions (single-phase 3 wire
s): AC90-2
60V 50-60HZ two phases (three wires: zero, fire, ground).
3. Number of power output channels: 8 groups.
4. Maximum output of single power / total power (reactive power) of controlled output: 5000W / 10000W maximum of reactive power.
5. output power socket specifications: flame retardant ABS material, can withstand up to 16A current phosphor copper material.
6. Protection function: Each channel is equipped with an independent air switch. In case of short circuit or over current, the air switch automatically powers off to protect the audio equipment from damage.
7. power supply specifications: applicable to global voltage AC90-260V 50-60HZ.