New arrival handheld microphone SR314S, charming and powerful!
Views : 1015
Update time : 2022-02-28 23:15:27
SR314S is Sinbosen's new handheld microphone. As soon as it was put on the shelf, many customers were attracted by its appearance and came to consult. It is light and slim, dazzling like a torch, and reflects dazzling colors under the stage lights. The unique design is specially designed for the stage, making this microphone stand out from many traditional large mesh microphones! It was the center of attention as soon as it was unveiled.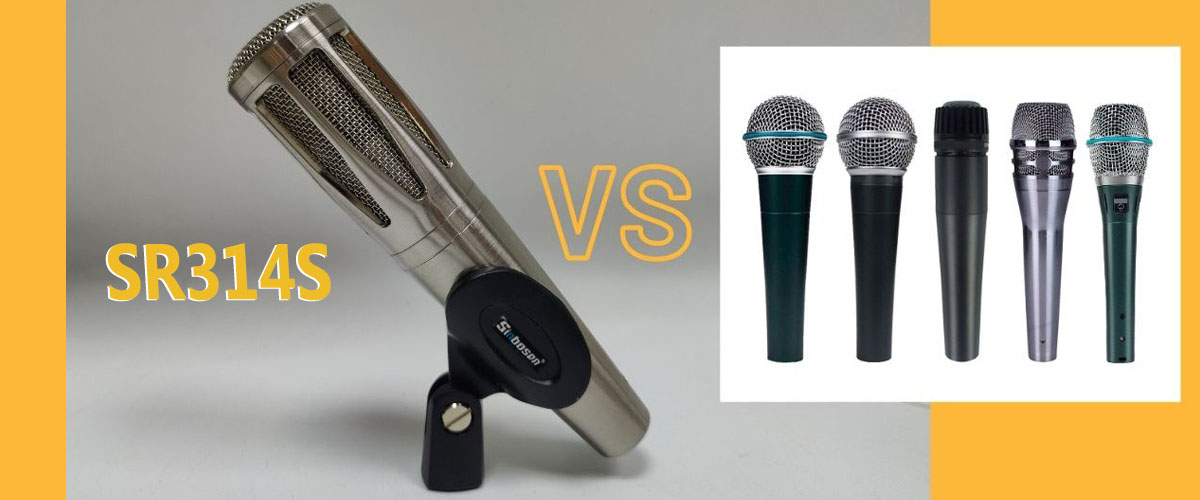 Of course, so high in appearance, performance can't lag behind. You should know that the positioning of this MICROPHONE is VOCAL MICROPHONE, that is to say, it has different ability of picking up and deducting sound. There are advantages and characteristics in the SR314S. The tight cardioid mic and full frequency response are off-axis all the way to 90 degrees, meaning the SR314S delivers the same sound quality even when the singer is off-center on the mic. Strong off-axis suppression, the sound off-axis more than 90 degrees will be greatly attenuated, which can effectively suppress ambient noise. It still has good low-frequency response capability when picking up sounds at a long distance, and can provide detailed and clear bass, and will not cause the sound to become thinner due to distance and other factors.
Specification
| | |
| --- | --- |
| Item | Value |
| Brand Name | Sinbosen |
| Model Number | SR314S |
| Style | Handheld Microphone |
| Communication | Wired |
| Sensitivity | 6.5mV/Pa (-43.7dBV/Pa) |
| Place of Origin | Guangdong,China |
| Function | Noise Cancelling, Light-weight, PORTABLE |
| Polar Pattern | Cardioid |
| Type | Dynamic Microphone |
| Frequency Response Rate | 20Hz-30KHz |
| Maximum SPL | 133dB |
| Application | Stage Performance |
| Color | Stainless Steel Silvery |
| POWER REQUIREMENTS | 3-6V, 2.1mA@5V |
| OUTPUT | XLR (pin 2+) |
| Output Impendence | 0.1Ω |
| SELF NOISE | 22dB SPL |
| Dimensions L x D | 181.1mm x 40.6mm |
RELATED PRODUCT:
More information,You can contact with us:

sales2@sinbosen.com
Whatsapp:
https://api.whatsapp.com/send?l=en&phone=8616676738225