The customer said: 1u digital power amplifier K-1200 is worth buying again!

1U class D digital power amplifiers are popular among users at home and abroad because of their environmental protection, energy saving, small size andutilization rate of more than 97%. Products are sold in Europe, America and other countries. A perfect Sound reinforcement used in multiple ranges of home and pagingapplications such as home, theater, office, malls.

Is the 1U digital amplifier worth buying again? of course! Let Sinbosen's customers come to you with the answer!

This is a customer from France, which is the second time Sinbosen has cooperated with him. The first power amplifier he bought at Sinbosen is the K-1200, which is a 2-channel 1U digital amplifier. I still remember that the French customer asked us a lot of questions when I first purchased it, and finally decided that this k-1200 digital power amplifier is the most suitable power amplifier for him. After a while, he once again told us his willingness to purchase a second. The K-1200 did not disappoint him. He liked this digital amplifier very much.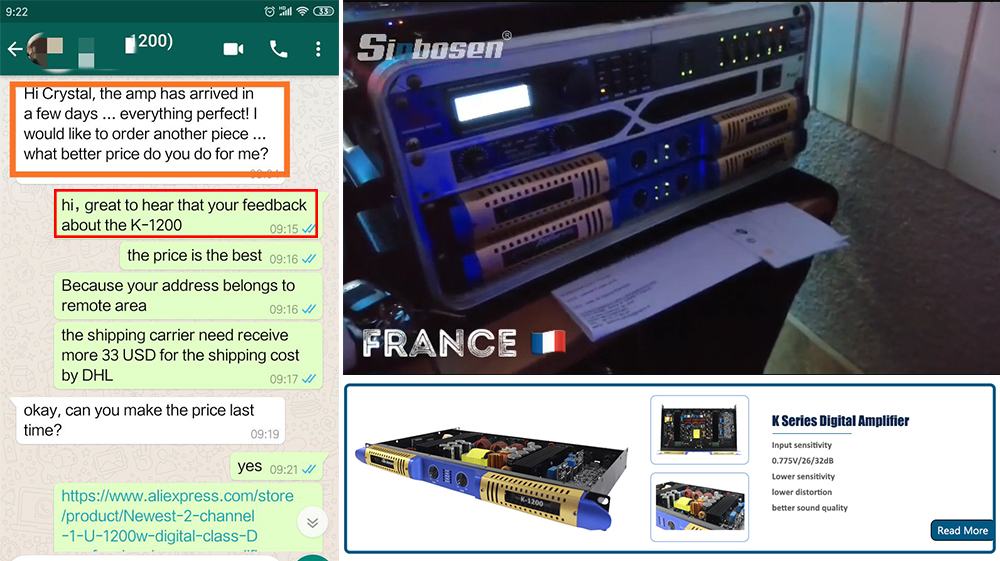 "This was the first time i was able to take it to a gig. We love it! We have it running down to 4 ohms and it' s not even breaking a sweat. I think we'd like to buy more of these. We' d also be interested in any with even more power if that' s available." This is another customer's support for the K-1200. Sinbosen feels very happy because our products are so well recognized by our customers. Up to now, this customer has also purchased other types of power amplifiers from us, and we still maintain very intensive cooperation.
Why is the k-1200 a digital amplifier that is worth buying again?

Feature:

►Mini 1U size, convenient for Touring Applications.
►2 x 1,850 Watts into 4 Ohms, 2 x 1,200 Watts into 8 Ohms
►Advanced protection circuitry for short circuit, mismatched load, overheating and internal faults.
►Use NTC boot soft start.
►With PFC automatic voltage regulator circuit.
►Each channel has independent overpressure and overheating.
►load short-circuit protection.
►There is an automatic limiting function to prevent damage to the sounder.
►Volume step control.
►Balanced input XLR stereo (two channels), stereo and bridge modes of operation.
The digital power amplifier has the characteristics of small distortion, low noise, large dynamic range and small size (1U/5-6kg). It is incomparable to the traditional power amplifier in terms of transparency, resolution, background quietness and low frequency shock.
Digital amplifiers are worth your trust, and Sinbosen is worth your trust! Maybe you can try the digital amplifier, I believe you will not be disappointed.

►Previous -- 3600 watts 2 ohms stable digital amplifier H-1700 excellent work!
►Next -- What are the special places for DSP amplifiers that customers like?
►Return to home page