High performance 3-way passive 10 inch line array speaker
Type: 3-way passive line array loudspeaker
Components: 2 x 10"/1 x 8"/2 x 1.4"
Dispersion: 80°
SPLmax: 142 dB
Weight: 34 kg / 75 lb
Description
V8 3-way passive line array loudspeaker
Frequency response (-5 dB standard)
67 Hz - 18 kHz
Maximum SPL
142 dB
Nominal impeadance
8 Ω
Power Handling Capacity
(RMS/Peak 10ms)
500/2000 W
Nominal dispersion angle (horizontal)
80°
Splay angle settings
0° - 14° (1° increment)
Components
2 x 10" driver / 1 x 8" driver
2 x 1.4" exit compression driver
passive crossover network
Dimensions (H x W x D)
310 x 700 x 460 mm
12.2 x 27.5 x 18"
Weight
34 kg/75 lb
V8+V8 SUB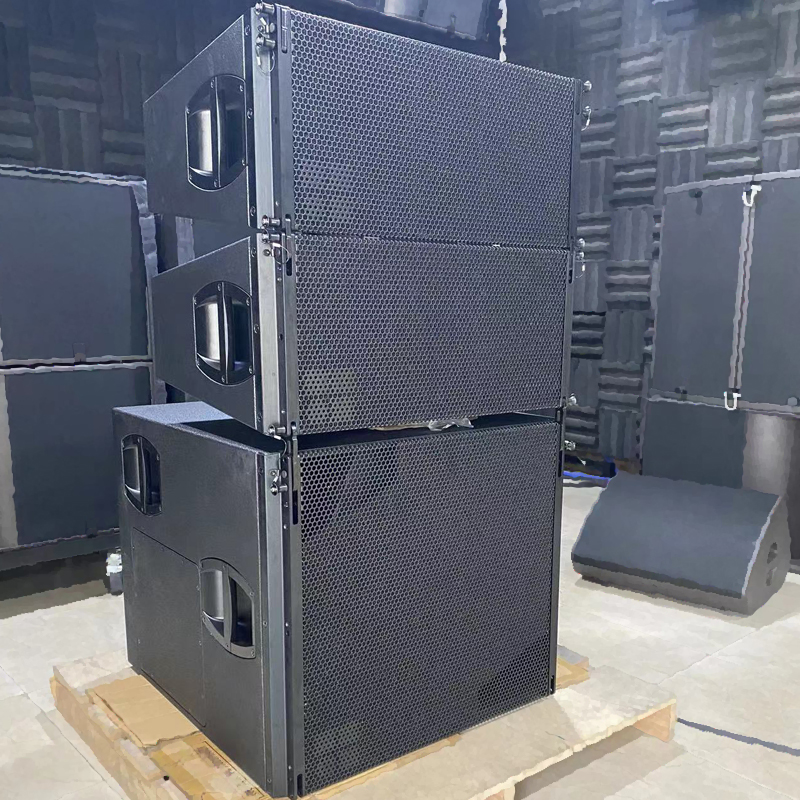 FEATURE
●The cross-coupling design enables smooth superposition of adjacent frequency bands, and an exceptional 80° horizontal constant directivity dispersion control nominally being maintained down to 250 Hz.
●Can form a vertical line array suspension with up to 24 speakers
●It can form an independent line array system, or can be combined with multiple V8-SUB speakers to form a system.
●The V8 cabinet is made of high-quality Russian plywood, and the surface is coated with polyurea paint, which is waterproof, high temperature resistant and impact resistant
●The front panel of the speaker is protected by a hard metal grille with acoustically transparent foam behind the grille.
●There are handles on the sides, and two additional recessed handles are provided at the bottom of the rear of the cabinet.
DETAIL
FACTORY