Sinbosen Polyurea paint K3 dual 12 inch 2 way audio line array speaker
Model: K3
Usable bandwidth (-10 dB): 42 Hz – 20 kHz
Maximum SPL: 143 dB
LF: 2 × 12″ neodymium cone driver
HF: 1 × 4″ diaphragm compression driver, neodymium
Weight (net): 43 kg / 95 lb
Description

Type
K3 2 way audio line array system
Usable bandwidth (-10 dB)
42 Hz – 20 kHz
Maximum SPL1
143 dB
Nominal directivity
(-6 dB)
Horizontal: 70° / 110° symmetric or 90° asymmetric
vertical: depending on number of elements and array curvature
Transducers
LF: 2 × 12″ neodymium cone driver
HF: 1 × 4″ diaphragm compression driver, neodymium
Acoustical load
LF: bass-reflex, L-Vents
HF: DOSC waveguide, Panflex
Nominal impedance
LF : 8 Ω
HF : 8 Ω
Connectors
2 × 4-point speakON
Rigging and handling
Flush-fitting 4-point rigging system
2 handles
inter-enclosure angles: 0.25°, 1°, 2°, 3°, 4°, 5°, 7.5° or 10°
Cabinet
First grade Russian birch plywood, high density polyethylene
Front steel grill with anti-corrosion coating
acoustically neutral 3D fabric
Finish
Dark grey brown Pantone 426 C
Dimension
950 x 402 x 355/286 mm 37.4 x 15.8 x 13.9/11.2in
Weight (net)
43 kg / 95 lb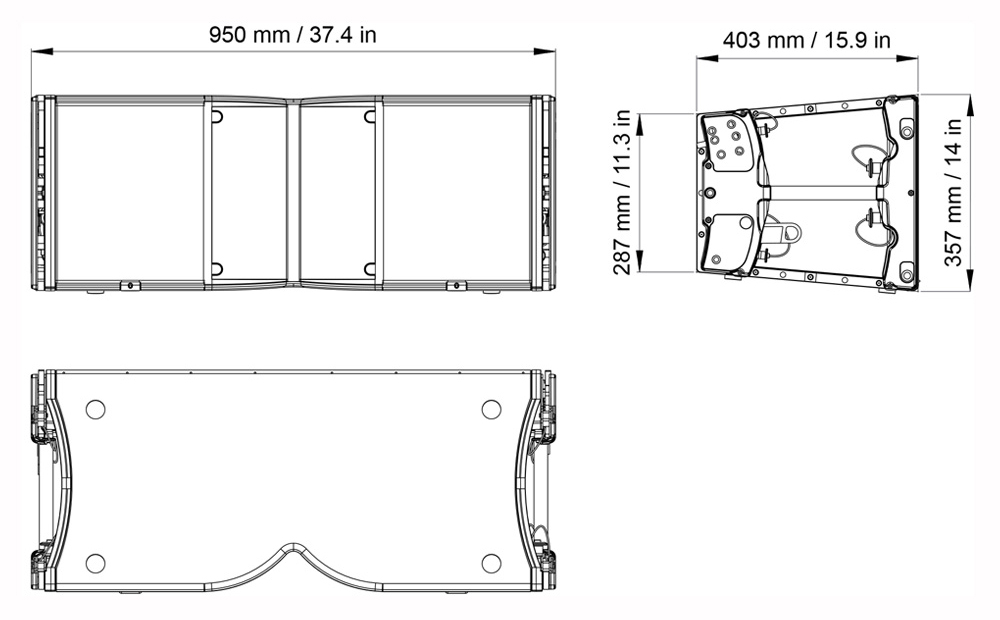 Feature of K3:
Sinbosen K3 Dual 12" 2-Way Audio Line Array Speakers
Made of first grade Russian birch plywood.
The surface is coated with polyurea paint, which is anti-corrosion, waterproof and wear-resistant.
Steel grating and Rigging components are also high-grade steel with anti-corrosion coating.
The front is wrapped in acoustically neutral 3D fabric.
Built-in two 8Ω 450W 12 inch neodymium woofers and one 8Ω 140W 4 inch tweeter
K3 adds some user-friendly designs like:
The inter-enclosure angles can be adjusted and you can replace speakers without disassembly!

2 × 12'' neodymium cone driver(Detail1)
2 × 12'' neodymium cone driver
(Detail2)
One 4 inch midrange
| | |
| --- | --- |
| | |
| Yellow fluorescent label. | Angle adjustment pin. |
| The label won't show if it hangs properly, on the contrary, if it's not hung properly, you will see a prominent yellow fluorescent label | Insert the angle adjustment pin into the corresponding angle of 0.25°, 1°, 2°, 3°, 4°, 5°, 7.5° or 10°: the cabinet will automatically adjust! |

---