Sound system for meeting room| Sound system for Koraoke| Sound system for indoor parties
Views : 1068
Update time : 2022-02-28 14:56:14
In the difficult time,people just can stay at home,but they also will need some entertainment times,so they will need the small size speaker and amplifier,it lighter and can move easy.
But they don't know how to choose the correct Sound system for meeting room| Sound system for Koraoke| Sound system for indoor parties.
The smaller party is more and more popular in different counties due to the difficult time.To hit the markets,more and more clients will like small size amplifier and full range speakers.
Today follow Sinbosenaudio,we have a whole set for your good recommend.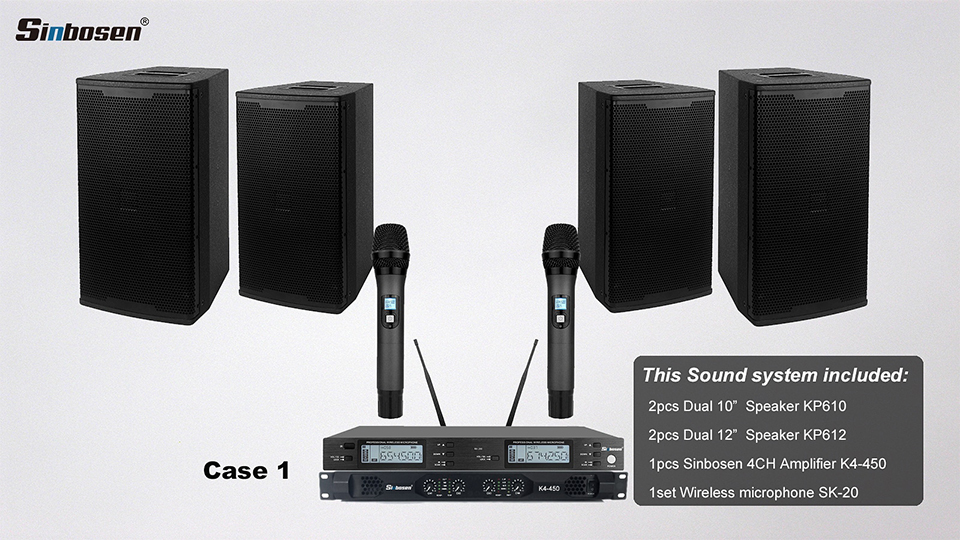 For the case 1:Digital amplifier K4-450 with sound system it more suitable for meeting room and indoor parties,but some client maybe will more like use for Koraoke,so it will have case 2: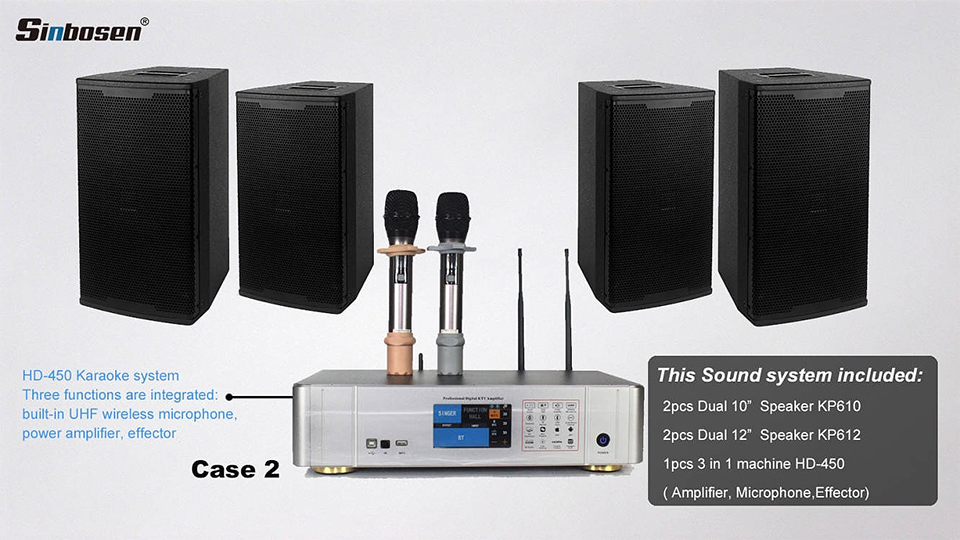 Case 2:450W sound system for KTV
10 inch full range speaker KP610
Need 2 pcs(ONE pair)
Rated power:300W Normal Speaker
MF rated Power/ Peak:300W/8Ω 1200W/ Peak
HF rated Power/ Peak:100W/8Ω 400W/ Peak
Rated impedance: 8Ω
Frequency response: 53-19KHz
Sensitivity: 99DB
Maximum sound pressure: 127DB
Wood:15mm Plywood
Net Weight:14KG
Gross weight:16kg
12 inch full range speaker KP612
Need 2 pcs(ONE pair)
Rated power:350W Normal Speaker
MF rated Power/ Peak:400W/8Ω 1600W/ Peak
HF rated Power/ Peak:100W/8Ω 400W/ Peak
Rated impedance: 8Ω
Frequency response: 53-19KHz
Sensitivity: 99DB
Maximum sound pressure: 127DB
Wood:15mm Plywood
Net Weight:15KG
Gross weight:18kg
4 Channel Class D Digital power amplifier HD-450
Need 1 pcs

●2 Channel Class D Digital power amplifier
●Mini 1U size,convenient for Touring Applications
●4 x 450 Watts into 8 Ohms;4 x 700 Watts into 4 Ohms;
●includes microphone / amplifier / effector
---
More information,You can contact with us:

sales2@sinbosen.com
Whatsapp:
https://api.whatsapp.com/send?l=en&phone=8616676738225