German customer feedback FP10000Q power amplifier and SM57 wired microphone
Last week, by coincidence, Sinbosen received feedback videos and pictures from two customers. They are all from Germany. I think the customer feedback is the effect of his use of Sinbosen
FP10000Q power amplifier
. The other is the feedback of the
SM57 wired microphone.
Let's take a look at the video they shared.
The effect looks pretty good! Hahahaha! Of course, customer reviews are also very good.
The first German customer used two Sinbosen
FP10000Q power amplifiers
to match his audio equipment system. He gave Sinbosen a great compliment in the chat with me. Not only is he excited, but I am also the same.
He said:
Hallo, soeben aus dem Urlaub gekommen, Hab gleich die neuen Endstufen in meine Anlage eingebaut, dann Probelauf. Hilfe, ich bin voll begeistert. Die Endstufen bringen eine Dynamik, einfach sagenhaft. Ich dachte, mir f?llt die Hütte ein. Sowas kraftvolles hab ich noch nicht erlebt. Ihr seid die besten. Vielen lieben Dank für die tolle Technik und die problemlose Abwicklung

für Euch
(Hello, just came from vacation, I installed the new power amplifiers in my system, then test run. Help, I'm really excited. The output stages bring a dynamic, simply amazing. I thought I'd remember the hut. I have never experienced anything powerful like this. You are the best. Many thanks for the great technology and the problem-free processing wicklung

for you)


Another German customer tested the SM57 wired microphone when he received the Sinbosen SM57 wired microphone.
He said:
today I've had time to review the
SM-57
that arrived this week.
Your overall work on them is great! They have a nice warm sound and a really low noise - even compared to our md431!
He is very satisfied with the results of the test. Among Sinbosen's wired microphones, it is no less popular with customers than SM58, BETA58A, KSM series, etc.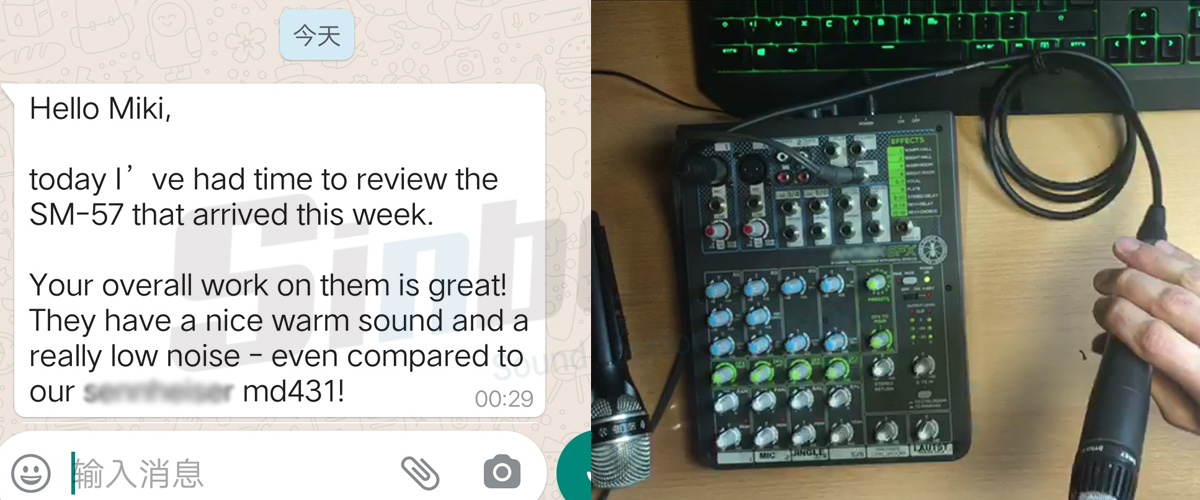 Because of the great feedback from these two German customers, the last week was a very happy week for me. Great confidence. I hope that every week I can be like last week. Hahahaha. If I still receive customer feedback next time, I must share it with you immediately.