Powerful FP10000Q Amplifier Creates A Powerful Stage!
Views : 1895
Update time : 2019-08-07 19:17:53
These days, the FP10000Q amplifier made a good result. We received feedback from customers in three different countries. They all bought the FP10000Q and organized an event, let us take a look at the customer's sharing.
---
A Cool Truck Activity In Chile
When I received a picture of the event shared by a customer in Chile, "Wow! It's so cool!" These words appeared in my mind. This is a parade activity on a truck. The number of people on the scene is around 100,000. This is a very cool event. If I am at the scene, I think I will also be involuntarily moving with the music, just like everyone else.
The Chilean customer is a DJ with extensive stage experience and audio equipment knowledge. Organized a number of events. Every event is very exciting. Now, I am looking forward to his next event, which may be a more wonderful stage.
"Si muy bueno"/"Yes very good". When I saw the reply he gave me, I thought I would be happy for a long time. Customer satisfaction is the biggest happiness of Sinbosen.


Let's take a look at this happy truck trip.


---
A Wonderful Concert In Romania
Two handsome customers from Romania shared with us that they organized a concert. At the concert they used the FP10000Q amplifier and SP4.8 processor:
Fp10000q and Ashly Protea sp4.8 on custom 18 inch band pass sub with b&c 18sw100-4ohm driver and custom tops with rcf mb12n351 + b&c de610.
Although the Romanian customer only said "Lovely sound." But I am already very very very happy. Because the biggest feature of the FP10000Q is good sound. This is undoubtedly the best feedback from customers.
---
En Venezuela FP10000Q/FP10000Q In Venezuela
This is a party of more than 3,000 people, held in Venezuela. The customer purchased the FP10000Q for this event.
It is a very nice night party in Venezuela. From the pictures shared by customers, I can feel the passionate atmosphere of the party scene.
---
A good amplifier is like a great assistant, and I am very proud that the FP10000Q can bring a Powerful stage to the customers and bring passionate experience to every event.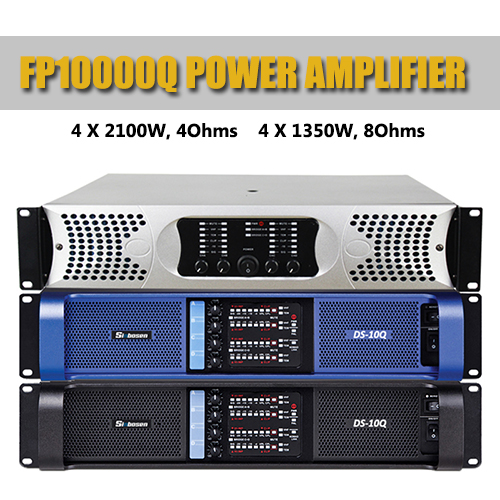 Feature



►4 Channel Class TD Switching power amplifier.
►4*2100 Watts into 4Ohms,4*1350 Watts into 8Ohms.
►Creat SUPER sound quality,good for single15"/dual15" speaker.
►Separately controllable on Gain
►Scalable Voltage Peak Limiter (VPL)
►Bridge-mode operation for Touring Applications
►Comprehensive protection scheme
►Extended heatsink to 69 mm.
►Use Original Siemens high-quality capacitor 3300uf 200V.
►Use Original ONSEMI transistor.
►Neutrik XLR*/speakon connectors.
►High quality fans form TAIWAN.