Power amplifier FP10000Q|Power amplifier FP20000Q|for line array speaker feedback
Views : 123
Update time : 2021-12-29 10:23:03
"Hi Crytsal,your power amplifier FP10000Q and FP20000Q working wonderful."
The client from Cuba feedback to us.How is your power amplifier working?Are you enjoy the time with the Christmas holiday party time and ready to welcome the coming New Year.
Let's we see the client ammplifier how is wonderful working
Are you confuse which speaker he connect?Are his feedback amazing?I also want to know which speaker he use to.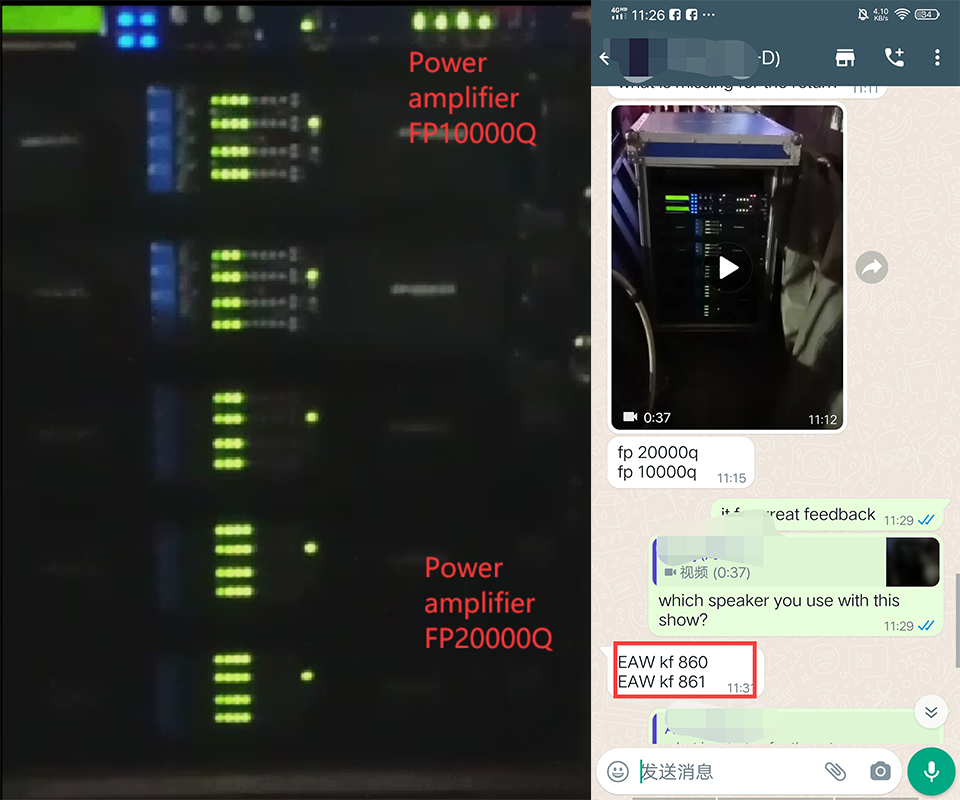 For the power amplifier FP10000Q and FP20000Q it not also just suitabel for EAW kf860&EAW kf861,it also suitable for others speakers,let see this 2 model details information:
Power amplifier FP10000Q for top speaker
Sinbosen FP10000Q is the Top selling four-channel model in the FP+ Series. Very high power and channel density – The four-channel FP10000Q delivers 2100watts *4CH(4ohms) in only 2U.
Four-channel flexibility – Adjacent channels are bridgeable for 2- or 3-channel operation.
With adjustable parameters – Selectable Gain, scalable Voltage Peak Limiter (VPL),and bridge-mode operation allow custom configuration for any application.Compared with most of our competitor, Sinbosen audio makes more efficient coolingsystem – improved extended heatsink board to 95mm, dissipates more heat to allow extended peak output.And upgraded power supply board with 12pcs of big Siemens 3300uf capacitors and 4pcs of small Siemens 2200uf capacitors.
FP10000Q is very suitable for line array speakers, especially for the outdoor shows.
Suitable speaker-Line array speaker:
Such as double 8 inch KA208;
Doule 10 inch KA210;
Single 12 inch VRX932
Power amplifier FP20000Q for subwoofer
FP20000Q is Excellent power amplifier which research and development by Sinbosen from 2016.
It iscompetitive 4000watts *4CH (4ohms) amplifier for dual 15inch or 18 inches power subwoofer.With soft start, the second start, the (low) pressure protection, output overload and short circuit protection.
Stable power supply, 24pcs Siemens capacitors and 2pcs transformers built in. It will bring more loud and stonger sound for Bass sound.High efficiency and unique cooling system on this model.Totally it has 12pcs fans to make fast cooling, 4pcs big fans built inside and 8pcs small fans on amplifier back side.
Suitable speaker-subwoofer:
Such as single 18 inch KA18;
Doule 18 inch KA18S;
Single 18 inch VRX918S
FP series
is our Top Sellers Touring- -Grade Class TD Amplifier, delivering Rock -Solid Reliability and Sonic Purity. It is high-powered Switching power amplifier, with precise circuit structure.Selectable gain plus scalable Voltage Peak Limiter (VPL) and bridge-mode operation allow custom configuration for any application.
Multiple detection and multiple protection, comprehensive protection scheme including current, voltage, DC, temperature, short circuit and open load warnings. Built-in Original IXYS, Onsemi transistor, Neutrik XLR*/Speakon connectors.
We upgraded the power supply board with Brand Siemens Capacitors. So FP series Amplifier can bring very powerful and strong sound for line array and subwoofer speakers.
Sinbosen Audio improved the cooling system, not only we extended the heatsink board,but also increased fans on amplifiers. Make sure the amplifier fast cooling for every long performance.They are light in weight compare with traditional transformer amplifier (Around14-19kg), applicable for big show, concert,dancing party, wedding and more entertainment or business performance.

More information,check our website:
https://www.sinbosenaudio.com/