Good news: Sinbosen digital amplifier D series price adjustment.
Views : 1977
Update time : 2022-02-28 19:11:10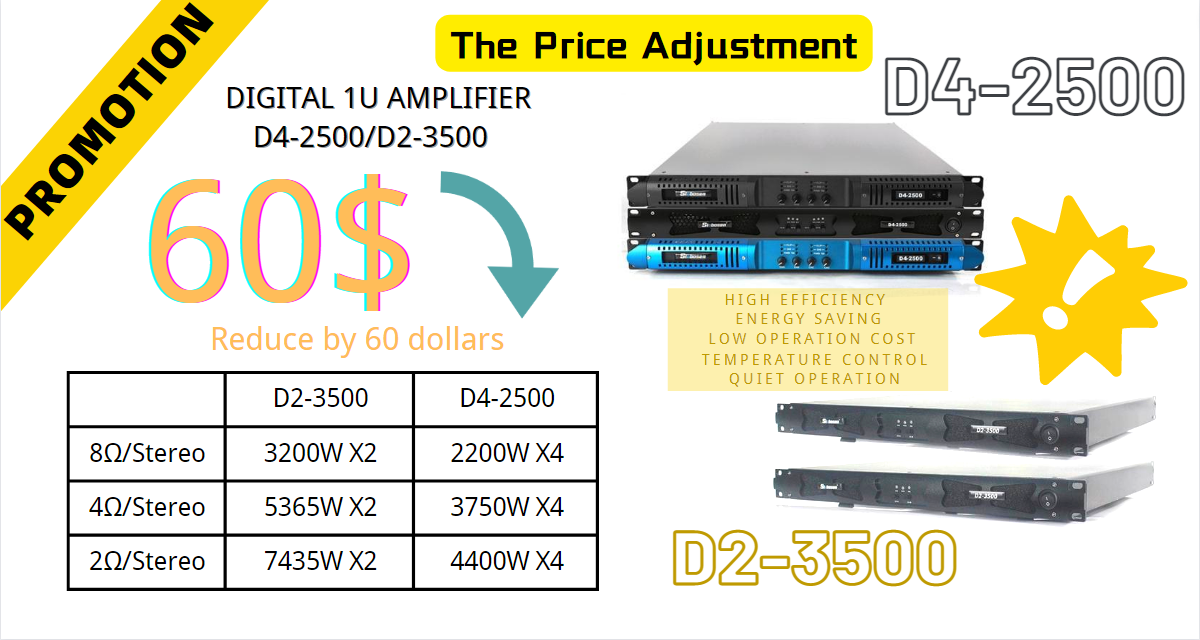 Two channel professional power amplifier D2-3000, D2-3500.Four channel professional power amplifier D4-2000, D4-2500, these four D series hot models are favored by many customers with their mini size but big energy. Sinbosen recently lowered the power of the D4-2500 and D2-3500 due to stability concerns. Because the reduced power of d4-2000 and D4-2500 are not much different, the same is true between D2-3000 and D2-3500. So Sinbosen decided to stop selling the D4-2000 and D2-3000, in order to improve production efficiency and better serve people. If you still want to buy d4-2000 and D2-3000, you can ask us, they will not be sold when they are sold out. In addition, in order to reward customers, Sinbosen will reduce the prices of D4-2500 and D2-3500 by about $60! By the way, the digital D series, like the K4-450, K4-1400, K4-1700, FP series, are tariff-free for the US, Mexico and EU countries!
D-Series is an outstanding value in any smaller to medium-sized sound system where an efficient,compact and good sounding amplifier is expected to work reliably over a long period.This series of power amplifiers uses active power factor correction technology, which can be used worldwide, and minimizes interference to the power grid and improves energy efficiency.They support to work under 2ohms steadily, with Automatic voltage suit for any country. Looks small body but very powerful.Especially, D4-2500 is high power for Line array Speakers, and D2-3500 suit for Subwoofer speakers on outdoor Show.
Sinbosen Digital Amplifier Specifications
Model
D2-3500
D2-3000
D4-2000
D4-2500
Rated Output Power
8Ω/Stereo
3200W X2
3000W X2
2000W X4
2200W X4
4Ω/Stereo
5365W X2
5100W X2
3400W X4
3750W X4
2Ω/Stereo*
7435W X2
7140W X2
4760W X4
4400W X4
Bridge RMS voltage(THD+N=1%, 1kHz)
160V
154.9V
126.5V
133V
Slew rate(1kHZ, low-pass filter bypassed)
50V/us
Sensitivity(Rated Power,1kHz)
selectable
41dB
38dB
35dB
32dB
THD+N(10%Rated Power,typical)
0.01%
IMD-SMPTE(10%Rated Power,typical)
0.01%
DIM30(10%Rated Power,typical)
0.01%
Cross-talk(20Hz-1kHz,below Rated Power)
≥90dB
Frequency response(10% Rated Power,20Hz-20kHz,8Ω
±0.2dB
Input impedance
20kΩ (Balance),10kΩ(Unbalance)
Damp factor(8Ω,20Hz-200Hz
≥5000
SNR(A weighted 20Hz-22kHz)
≥115dB
≥112dB
Main power
90~260VAC,50~60Hz
Protection
Under voltage, DC, Over temperature,Over load limiter,Short protection
Size(WxHxD)
483x44x465mm
Net weight
14kg
14kg
14kg
14kg
RELATED PRODUCT:
---
More information,You can contact with us:


sales2@sinbosen.com
Whatsapp:https://api.whatsapp.com/send?l=en&phone=8616676738225