2020 Sinbosen FP20000Q power amplifier upgrade again-capacitor upgrade.
Views : 1136
Update time : 2020-08-11 14:38:49
Last time, Sinbosen shared the development history of Sinbosen power amplifier with FP10000Q power amplifier and also shared with you an article on the upgrade of the heat dissipation system and capacitors of the FP20000Q/FP22000Q/DSP20000Q/DSP22000Q power amplifier between 2018-2020. (
Click here to learn
)
If you know the information in the article I mentioned above, or if you are our old customer,
you will know that in 2019, we will upgrade the 12 large capacitors of FP20000Q from 3300UF 200V to 3600UF 200V. With 8 small capacitors 2200UF 200V.
If you don't know, it doesn't matter, I have already told you, and now you already know. Hahaha!
At the same time, in the second half of 2020, we have upgraded FP20000Q again.
In order to make the subwoofer amplifier more powerful and the bass stronger. In order to make the customer's live stage or performance, etc., have super super super good effect.
We will upgrade to 12 large capacitors of 3600UF 200V with 12 small capacitors of 2200UF 200V.
Compared with 12 pcs 3600UF 200V large capacitors + 8 pcs 2200UF 200V small capacitors in 2019, 4 pcs 2200UF 200V small capacitors have been added, and a total of 8800UF capacitance has been added on the original basis. Super powerful! ! ! Make the subwoofer amplifier more powerful and the bass stronger.
---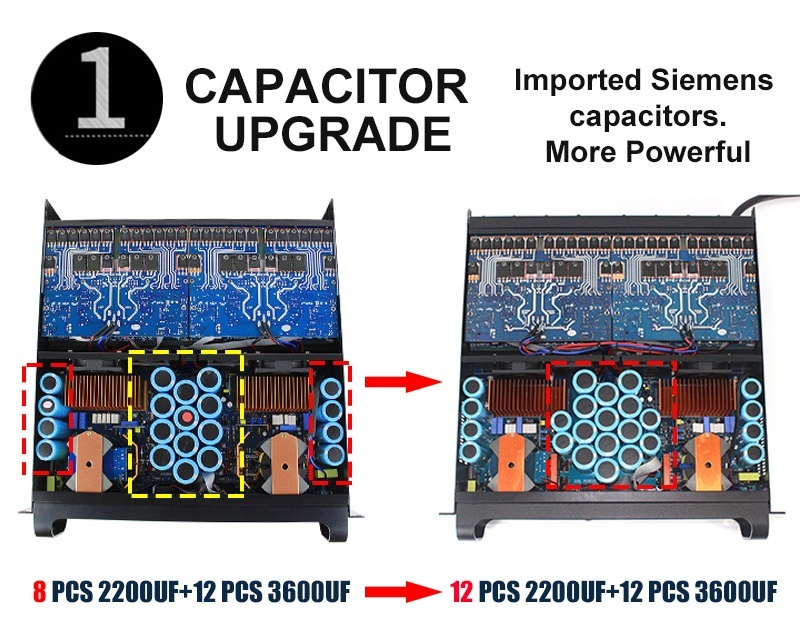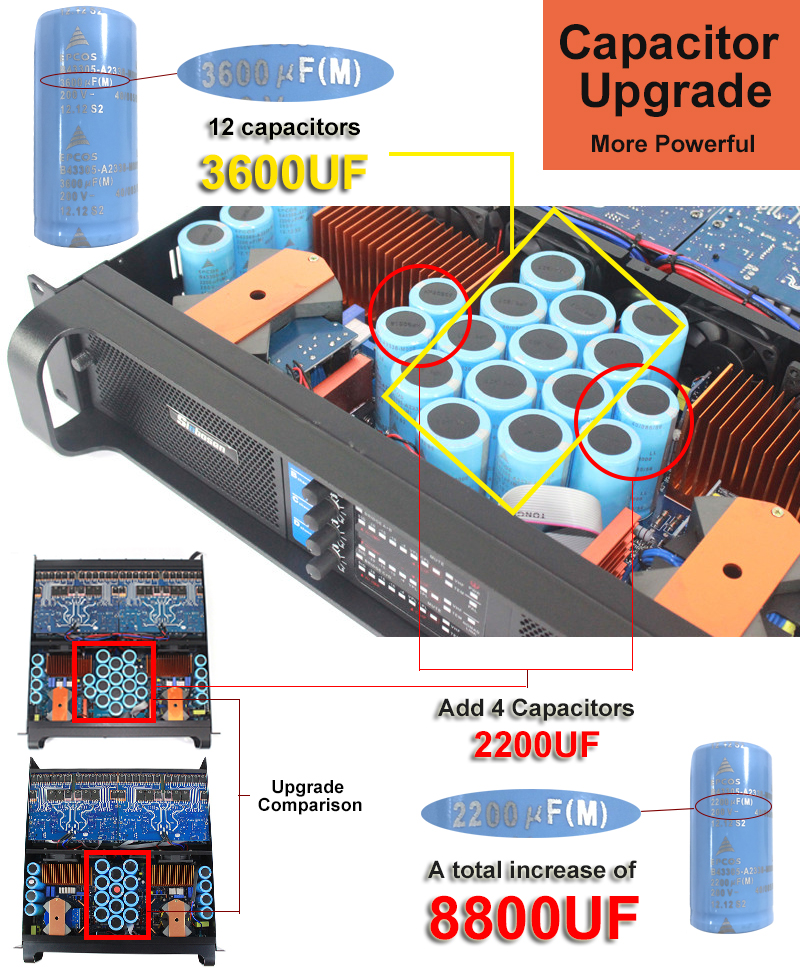 ---
In order to make our products more excellent and provide customers with stronger, more powerful and high-quality products, Sinbosen has been constantly developing and upgrading innovative products. Upgraded capacitors, upgraded power amplifier cooling system, newly introduced 2 ohms stable digital power amplifiers D4-2000 and D2-3000 and FP series FP24000 super power amplifiers, etc.
Sinbosen hopes that every innovation and upgrade will bring you even better products.