2 channels power amplifier FP14000 for subwoofer speaker feedback from Germany
Views : 619
Update time : 2022-06-27 14:28:01
Client said:''If I have RCF LF18X451 and Nachbauten rcf 9006 tts56 hdl30,which power amplifier you suggest to us?"

Sinbosen Crystal:"You like the amplifier with bass sound better or need use in 2 ohms?Or you need 2 channels or 4 channels?,if 2 channels,it have the FP14000 power amplifier and FP24000 power amplifier;if you need 4 channels,it have
FP22000Q power amplifier
,
FP20000Q power amplifier
for subwoofer"
Client said:"I'd like bass sound better,and 2 Lautsprecher 1 Gehäuse 3600w Rms"

Sinbosen Crystal:"if that,you can try the 2 channels
power amplifier FP14000
"
2 Channel Class TD Switching power amplifier FP14000
●2 x 2400 Watts Watts into 8 Ohms, 2 x 4400 into 4 Ohms
●Create SUPER BASS sound,suit for 2units 18"/21" subwoofer
●Separately controllable on Gain
●Scalable Voltage Peak Limiter (VPL)
●Bridge-mode operation for Touring Applications
●Comprehensive protection scheme
●Use 12Pcs Original Siemens high quality capacitors 3300uf 200V +4pcs 2200uf Capacitors
●Use Original ONSEMI transistor
●Original Neutrik XLR*/Speakon connectors
●High efficient cooling. Extended heatsink board to 95 mm
●Temperature protection;Over current protection;Short circuit protection built-in
Sinbosen Crystal:About the FP14000,how is your idea?You can order one sample to testing.
After few times,the clients give me feedback about the power amplifier FP14000 working in stage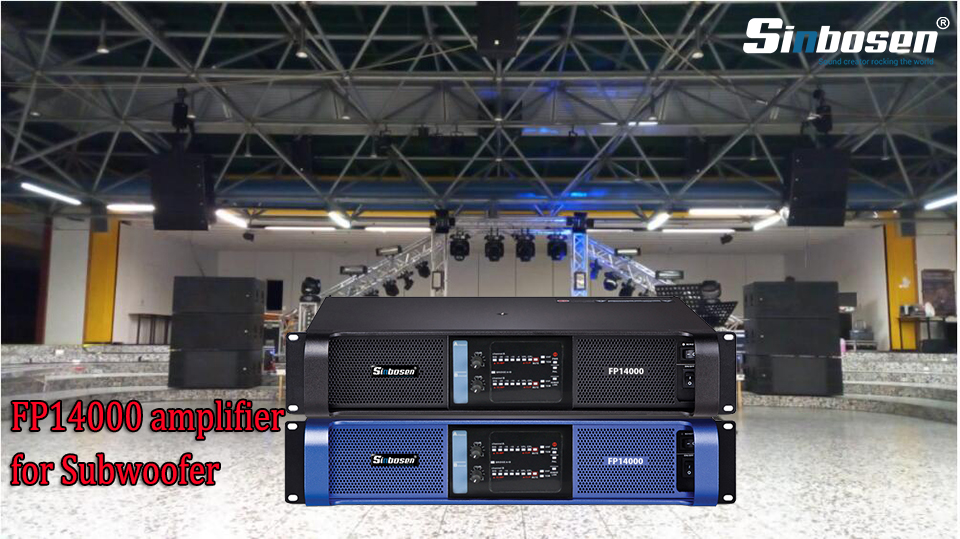 Client said"Kanal A -2 Lautsprecher 1 Gehäuse 3600w Rms;Kanal B-2 Lautsprecher 1 Gehäuse 3600w Rms,Es funktioniert erstaunlich."
Thank you for the client feedback for the amplifier,if you have same subwoofer,then you also can choose our 2 channels power amplifier FP14000.
Related power amplifier for subwoofer