3 dual 10" line array +1 SUB Active Powered Audio System
Item No.:
KA210 + Active KA18S System
Cabinet:18mm plywood
Cover: Polyurea paint
Product size:75x25x48cm
Includes:3Pcs KA210/1Pcs KA18S/2Pcs Bumper
Description
Product Parameter
KA210 Dual 10 inch Line Array
HF Driver
1x3" ferrite driver(75cores 170magnetism)
LF Drivers
2x10" ferrite driver(75cores 200magnetism)
MF rated Power/ Peak
600W/6Ω 2400W/Peak
HF rated Power/ Peak
150W/8Ω 600W/ Peak
Frequency response
55Hz-20KHz
Sensitivity
106dB(1m/w)
Impedance
4Ω
Weight
28KG
Specification
75x25x48cm
Wood case
18mm plywood,Polyurea paint
Subwoofer
10 inch line array
Transport Package
Strong Wooden Frame and Carton
Feature
Support Strong Bass Sound
Activity
Passive
Riggings
With hangings and bolts
Application
Commercial, Home,Party, Stage, KTV, Professional Performance
KA18S 18" ACTIVE SUBWOOFER
LF Driver
1x18" ferrite driver(100cores 220magnetism)
MF rated Power/ Peak
700W/8Ω 2500W/Peak
Frequency response
40Hz-250Hz
Sensitivity
100dB(1m/w)
Impedance
8Ω
Wood case
18mm plywood,Polyurea paint
Size
750 x 540 x 707mm
Weight
52KG

Brief Description:
This is a 3+1 system combination(Don't suggest to link as 4+1). It is a hot selling product with a built-in amplifier and DSP. It has a high cost performance and wide coverage, providing a strong bass sound. The exterior is finished with a polyurea paint, and the rigging is of high quality. It is suitable for slow rock middle-large size show, providing a powerful sound with great clarity.
Product Detail: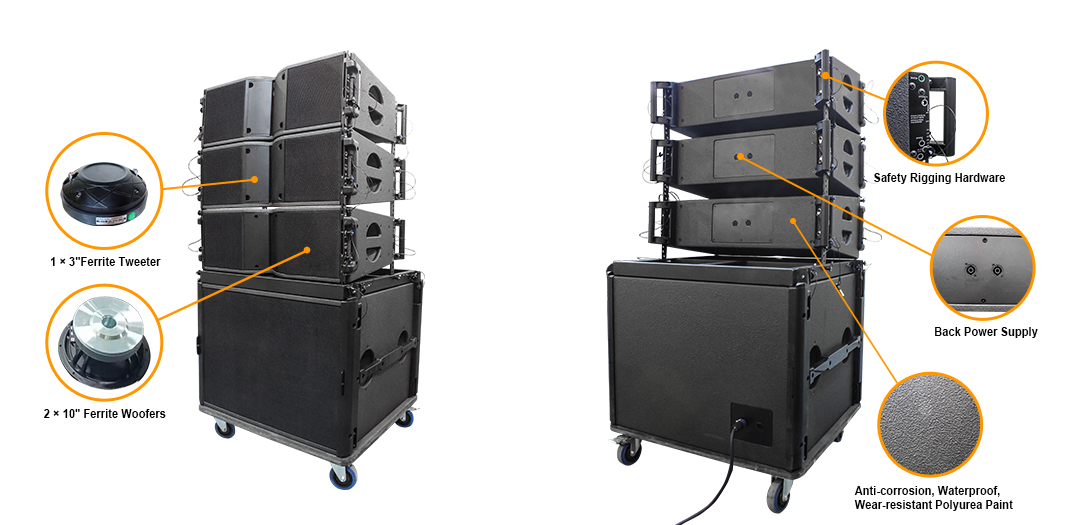 Feature of the powered board:
•3 Channels
•90-240V Wide Voltage Range
•With DSP software (Q Value,Frequency,Limiter,Delay,Gain,Preset etc. setting)




Custom Made: OPTIONAL Accessories/Configuration
(Note: Standard configuration is as above)
► Ferrite drivers can be replaced with neodymium magnetic drivers.
► Crossover can be added.

---