Sinbosen D4-1600 4 channels 3900 watt professional dj amplifier class d 2 ohms digital amplifier
Model: D4-1600
Channel: 4 channel power amplifier
Feature: 1U/Digital Amp/2 Ohms Stable
Output Power:
8Ω Stereo Power (RMS): 1,600W X 4CH
4Ω Stereo Power (RMS): 2,800W X 4CH
2Ω Stereo Power (RMS): 3,900W X 4CH
Warranty: 3 Years
Certification: CE,
Description

---
1U Amplifier

D4-2500

Rated Output Power(THD+N=1%, 1kHz continue sine wave, all channel driving)

8Ω/Stereo

4x1600W

4Ω/Stereo

4x2800W

2Ω/Stereo

4x3900W

Bridge RMS voltage(THD+N=1%, 1kHz)

126.5V

Slew rate(1kHZ, low-pass filter bypassed)

50V/us

Sensitivity(Rated Power,1kHz)

selectable
41dB
38dB
35dB
32dB

selectable
38dB
35dB
32dB
29dB

THD+N(10%Rated Power,typical)

0.01%
IMD-SMPTE(10%Rated Power,typical)
0.01%
DIM30(10%Rated Power,typical)
0.01%
Cross-talk(20Hz-1kHz,below Rated Power)
≥90dB
Frequency response(10% Rated Power,20Hz-20kHz,8Ω
±0.2dB
Input impedance
20kΩ (Balance),10kΩ(Unbalance)
Damp factor(8Ω,20Hz-200Hz
≥5000

SNR(A weighted 20Hz-22kHz)

≥112dB

Main power

90~260VAC,50~60Hz
Protection
Under voltage, DC, Over temperature,Over load limiter,Short protection

Size(WxHxD)

483x44x465mm
Net weight
12kg
PROFESSIONAL POWER AMPLIFIER
1 Performance overview
a,High efficiency and energy saving, operation cost is low,
b,Compact and light weight,structure is firm.
c,Comply with the safety and EMC standards.
d,90~260VAC / 50~60HZ Wide range power supply.
e,First-class quality, thanks for the components from international high-end manufacturers.
f,Temperature control fan for quiet operation.
g,Modular design and maintenance is convenient.
h,Very suitable for mobile show.
i, Reasonable design makes you feel relaxed in the process of using.

2 Environmental protection, energy saving, cost saving
Advantages of high efficiency:
* Low working temperature, rlability will be improved obviously.
* The size and weight are only 1/3 of tradition amplifier.
" The cost for transportation, handling, installation will reduce obviously.
* Saving energy, reducing operating costs
* Environmental protection
3. Cooling instructions: Good heat dissipation /High quality fans
The cooling mode of the equipment is as follows: the cold air is sucked through the ventilation hole of the front panel, and the heat is taken out from the rear panel.

4. Can be used for line array speakers. Suitable for large parties, stage performances, schools, churches, conferences, concerts, etc.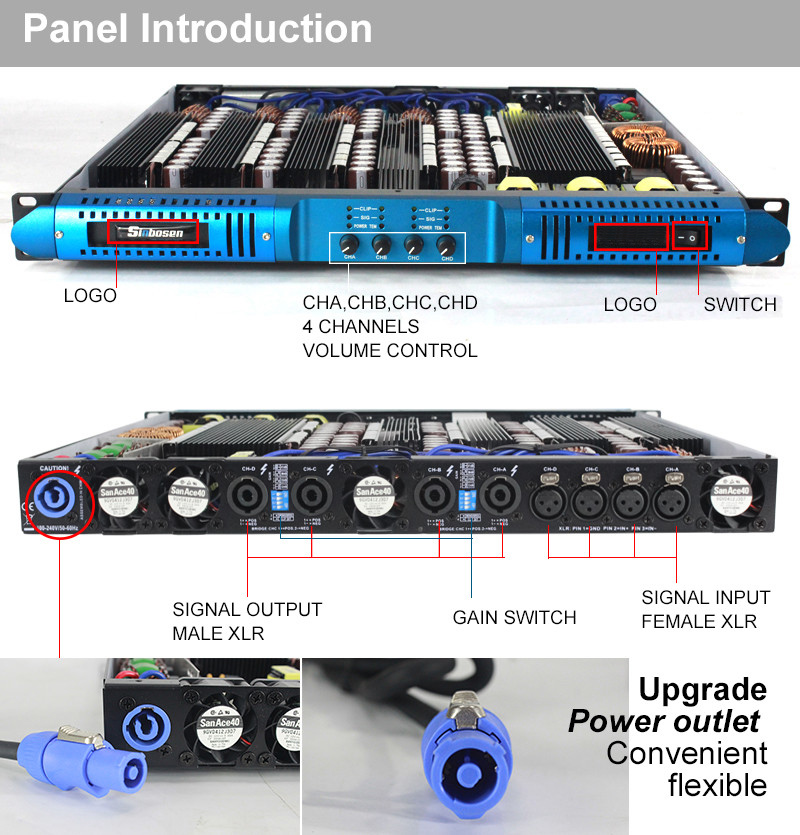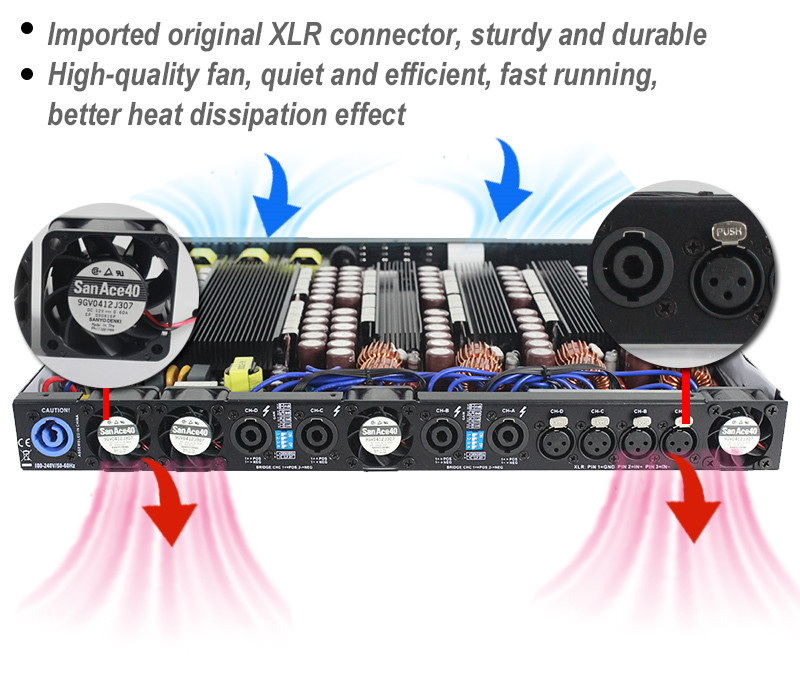 ---