Sinbosen 2 ohms stable H-1700 Class D digital power amplifier for full range speakers
Model: H-1700
Channel: 2 channel power amplifier
Output Power:
8Ω Stereo Power (RMS): 1700W X 2CH
4Ω Stereo Power (RMS): 2800W X 2CH
2Ω Stereo Power (RMS): 3600W X 2CH
Class: D
Certification: CE, ROHS, TUV
Warranty: 3 Years
Special service: OEM
Description

---
Sinbosen H-1700 1U 2 Ohms Stable Digital Power Amplifier
H-1700
2 Ohms Stable
8Ω Output power:
2x1700W
4Ω Output power:
2x2800W
2Ω Output power:
2x3600W
8Ω Bridge power:
5600W
4Ω Bridge power:
7200W
net weight:
8.35KG
Gross weight:
9.5KG
Input resistance
Balance/unbalance
>20kΩ/>10kΩ
Total harmonic distortion
1KHz sine
<0.035%
Frequency response
20Hz-20kHz
<+/- 0.5dB
Signal to noise ratio
>106dB
Damping coefficient
>600
Conversion rate
>20V/us
Input sensitivity:
32dB, 1V, 0.775V
Minimum load impedance
Stereo
2Ω
Wind direction:
Blowing from the front to the rear, the temperature controls the wind speed
Protective function:
Soft start, VHF, DC, short circuit, overload, clipping / distortion limit, thermal
Packing Size
(H x W x D)
540 x 400 x 120 (mm)
A perfect Sound reinforcement used in multiple ranges of home and paging applications such as home, theater, office, malls.
The H-1700 amplifier is a 1U Class D digital power amplifier .It is the only amplifier can stay stable in the 2 ohms state.1U class D digital power amplifiers are popular among users at home and abroad because of their environmental protection, energy saving, small size and utilizationrate of more than 97%. Products are sold in Europe, America and other countries.

---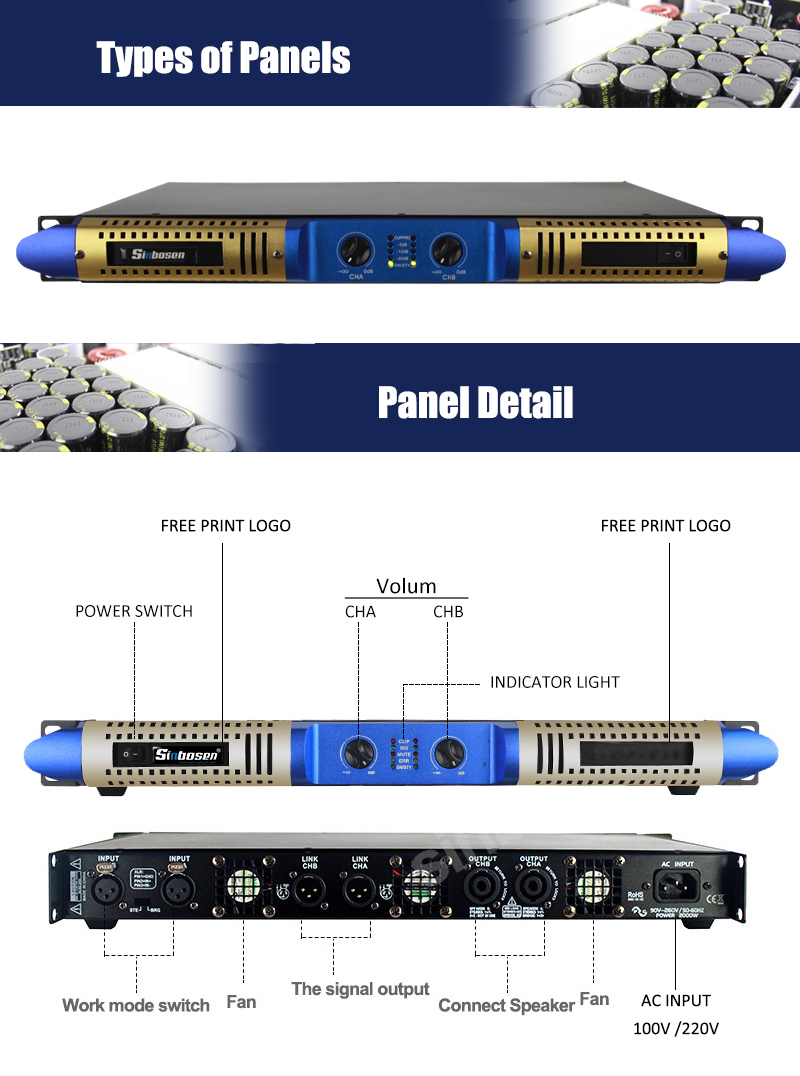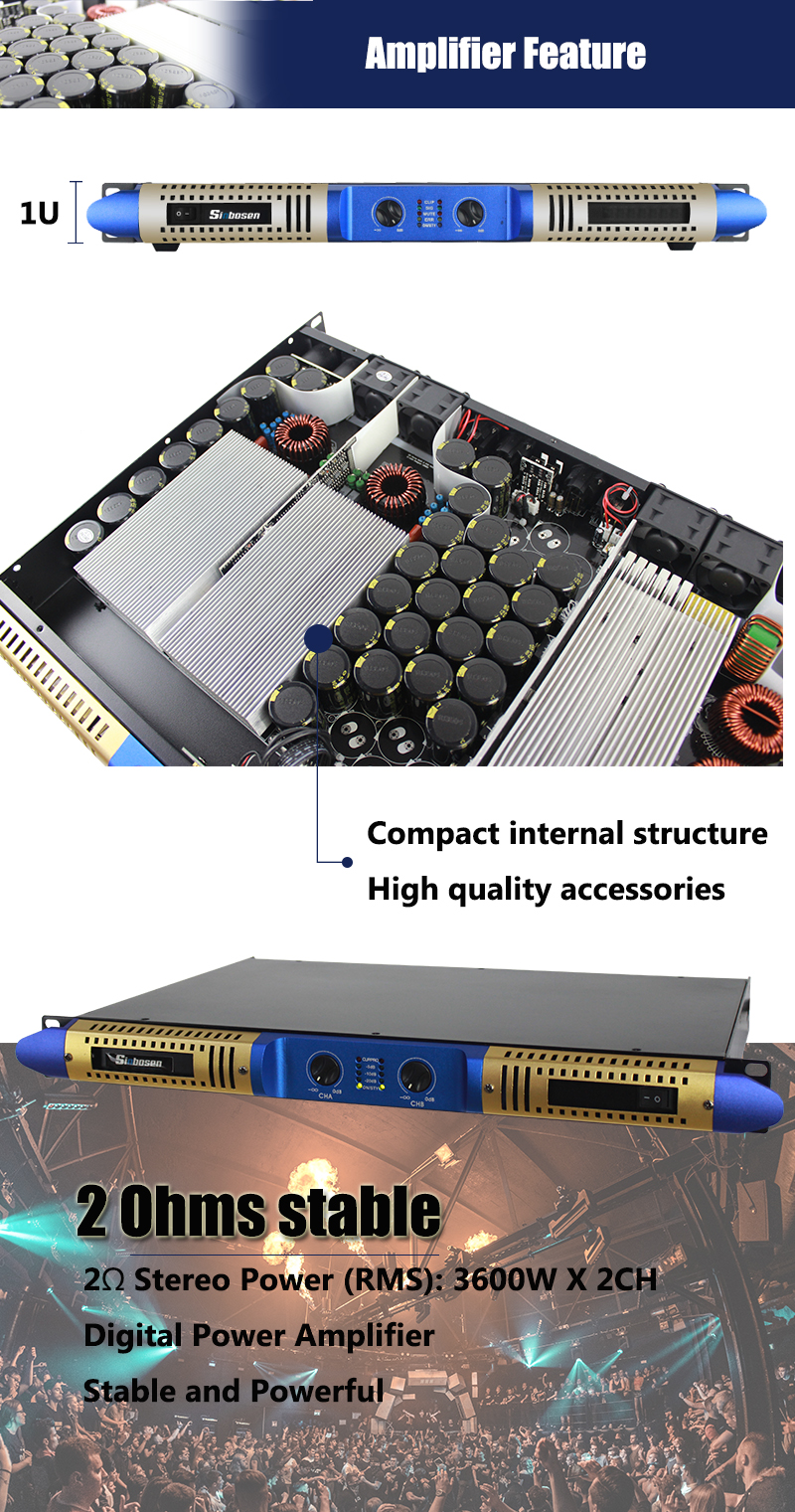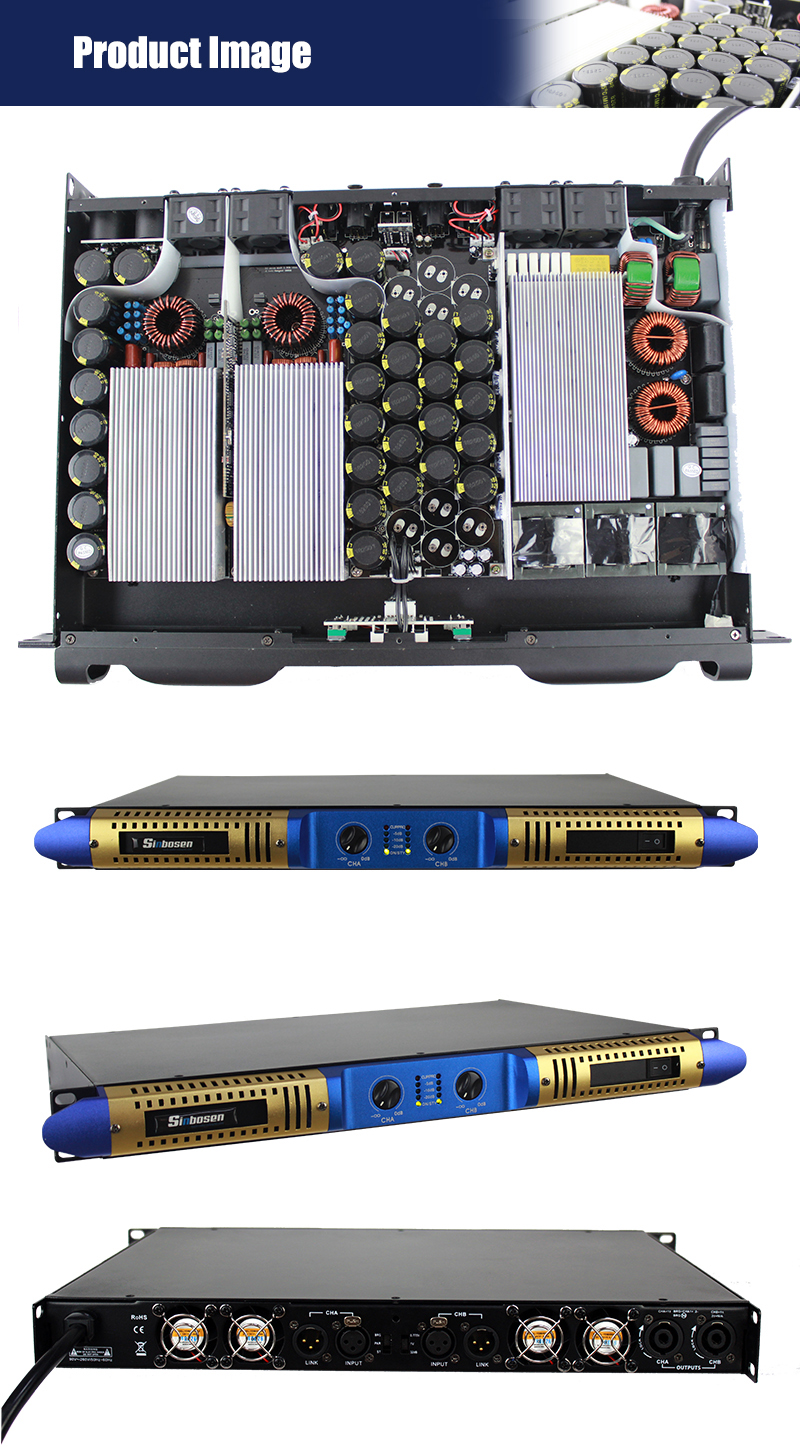 Feature

1. 2 Channel Class TD digital power amplifier.
2. 2 x 3,600 Watts into 2 Ohms,2 x 2,800 Watts into 4 Ohms,2 x 1,700 Watts into 8 Ohms.
3. Creat SUPER sound quality.
4. Neutrik XLR*/Speakon connectors.
5. Low electricity consumption and powerful output.
6. Only 1U height and light weight(Net weight: 8.35KG), easy to carry and install.
7. Active power factor correction technique (PFC), can work with high stability under full voltage range 90-264V and stay stable in the 2 ohms state.
8. Use high-quality fans to make wind flow front to the rear.
9. Accurate volume control, switch on/off, signal, clip and protection LED light in the front panel.
10. Fully automatic protections against the direct current, overheat, overload, on/off switching, RF and amplitude limit.
11. Suitable for live show, stadium, and flow performance,outdoor event.